Pharma PCD Franchise for Anti-Rheumatic Drugs – In nowadays, there are a lot of product range in which you can start your PCD franchise. Pharma PCD Franchise for anti-rheumatics drugs is a promising option. Anti-Rheumatic Drugs are those which act on the cause of the problem rather than just relieving form the symptoms. These products are majorly used in case of joint pain and arthritis. Biofield Pharma is proved to be a promising company and producer of the Anti-Rheumatic drugs. We offer pharma PCD franchise in this segment. Many distributors have associated with us and enjoying our services.
Biofield Pharma was incorporated in the year 2000. We have experience of about 20 years in the pharmaceutical sector. The success of the company can be imagined by the fact that we have made our company ventured with another company, Integral Lifesciences, that too in just seven years. Biofield Pharma has emerged as the best company for pharma PCD franchise for anti-rheumatics drugs. Our products are available as capsules, syrups, dry syrups, injections, tablets, drops, etc. The anti rheumatics drugs have shown great results in improving the health of the customers and the patients.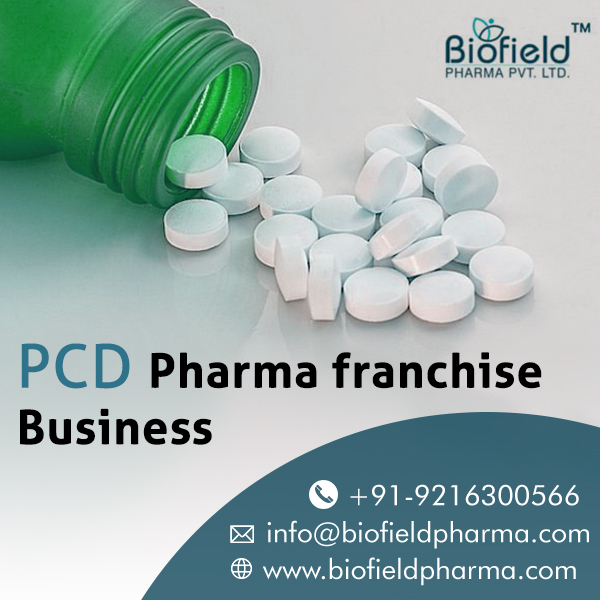 Biofield Pharma is offering the opportunity to the individuals and distributors who want to get into the pharmaceutical marketing business by starting a PCD franchise in anti-rheumatics drugs. Associating with us have a lot of perks and success is guaranteed. Hurry now and know about the vacancy in the region. Contact us at +91-9216300566 or email us at info@biofieldpharma.com.
Start Pharma PCD Franchise with Biofield Pharma!!!!
Everyone wants to associate with a company which is not only the best but also ethical. A company which offer them the quality products and support in the business. In every aspect, the Biofield Pharma excels. Our motive is not just to make profit, but to actually serve the society through our business. By providing them with the medicines which can bring change and give them a more healthy life.
Best Quality Products: Our products are well tested before the dispatch. Also, pure raw materials are used. That's why our products are of the best quality.
Reputation: Because of our quality products we have a reputation and positive image in the market.
Experience: As mentioned above, we are in business for a long time and now we have a great experience.
Certified Manufacturing Units: Manufacturing are certified by WHO:GMP.
Customer Satisfaction: We are a customer-centric company. Their satisfaction holds utmost importance.
Cost-Optimized Methods: Our products are affordable and competitive relatively.
What does Biofield Pharma offer to Franchise Partners?
Biofield pharm offers a lot to the franchise partners. We make sure they are well established and prosper in the future. We believe in our values and our values are to give best to franchise partners. We are a leading company in the ma sector because of our franchise partners. The pharma franchise will get:
Monopoly rights are given to the franchise over a large region.
Profit margin is best by our company.
On-time and fast delivery of the products.
Vast logistics partner network across India.
Promotional tools and marketing support to the franchise partners.
Incentives to exceptionally performing pharma franchise.
Current Scenario of Anti-Rheumatic Drugs
In 2015, 24.5 million people were affected by Arthritis. As of now, the number is supposed to be close to 30 million. The normal medicines do give temporary relief, but after some time pain will come back. This is what makes anti-rheumatic drugs important. The global market of anti-rheumatic drugs is about to reach USD 30.7 Billion By 2025. The future holds good as per the perspective of people in the pharma sector.
Clearly this is a peak time to invest in anti-rheumatic drugs. The products are in good demand. It is good to hold on the business at this stage and make the best out of it. Biofield Pharma is offering the opportunity. Don't wait, get started.