PCD Pharma Franchise in Gujarat – In the recent past year, Gujarat has come out as a leading pharmaceutical hub with many big and small companies setting up their business in the state. The plus point of having a pharma business here is that the market is also very big and supportive here. Biofield Pharma, a leading PCD Franchise in Gujarat is offering its services in the state including major regions like Ahmedabad, Junagadh, Rajkot, Jamnagar, Porbandar, Gandhinagar, Bharuch, Vadodara, Surat, etc. The market of Gujarat holds great potential and we are targeting to utilize this potential along with franchise partners.
Established in 2000, Biofield Pharma started its journey from Chandigarh. The major domains in which the company works are General Range, Gynae Range, Paediatric Range, Ortho Range, and a few other ranges. The company offers distributors or individuals to start the PCD franchise with Biofield Pharma. Now we are offering you to start PCD Pharma Franchise in Gujarat. With our remarkable services, you always will be ahead in the market. We are an ISO-certified company, having a large manufacturing unit. Biofield Pharma has more than 300 products currently sold in the market. With almost two decades of work, we have emerged as the most respected company.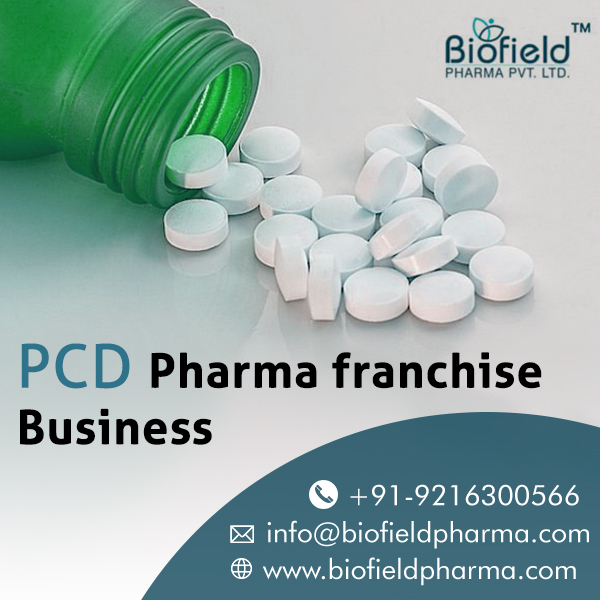 Start a PCD franchise with Biofield Pharma, and you will get different business plans. You can choose whatever is most suitable for you. With our services and your hard work, we will surely achieve greater success in life. Give us a call to us at +91-9216300566 or send your requirements to info@biofieldpharma.com. We will surely get back to you.
Current Scenario of the Pharma Sector in Gujarat
One must be wondering why Gujarat. It is because the pharma sector has seen the best time in Gujarat. Two major pharmaceutical hubs, Vadodara and Ahmedabad are situated here. It is ranked one in pharmaceutical industries in India, with 33% of the whopping share in drug manufacturing and 28% in exports. Even as a market, there is a lot to offer.
The state ranks 9th when it comes to population among states.
People in Gujarat are aware of their health.
With the encouragement and support from the government, many insurance companies are giving health insurance which is leading to more and more investment in health by people.
Various health schemes are launched, so that people may use them for their health.
Partner with Biofield Pharma "Top PCD Company in Gujarat
If you want a headstart in the franchise business in Gujarat, associate with Biofield Pharma and we will elevate you toward success. We are the preferred choice for franchise partner and soon we will become the favourites in Gujarat too. Our services and the products to the franchise partners are distinctive from others. As a franchise partner of Biofield Pharma, you will get
Profit Margin: Excellent Profit Margin as our process is optimized to save cost. With the price reduction, we can offer more to the franchise.
Diverse Investment Plan: Different plans are available. Franchise partners can choose between them following their scenario and the market in the region.
Freedom of doing Business: With monopoly rights, you will be the sole survivor of our products. Once the business is established, you will observe constant growth in the business.
Quick delivery of Products: We deliver products quite efficiently, timely and in the best package.
Quality Products at Biofield Pharma for PCD Pharma Franchise in Gujarat
Biofield Pharma has successfully managed to provide products which not only of the best quality but are also affordable to the customers. we offer our products in the form of Tablets, Lotions, Creams, Dry Syrups, Capsules, Sachets, Drops, Injections, Ointments, Syrups. We deliver more than 300 products that are approved by DCGI. We offer products in the following domains
Derma
Gynecology
Ophthalmic
Analgesic
Dental
Cardiology
Neuropsychiatric
ENT
Antibiotic
These products have a terrific history of sales in the region where Biofield Pharma have set its franchises. It is because our products are efficient, effective, durable and affordable.
Best Vacant Location for PCD Pharma Franchise in Gujarat
Dwarka
Somnath
Gandhinagar
Mandvi
Bharuch
Jamnagar
Bhuj
Ahmedabad
Rajkot
Junagadh
Vadodara
Surat
Porbandar
Biofield Pharma "ISO Certified Company
Biofield Pharma is one of the most trusted companies because of the certification we hold. Certifications build strong value for the company. The certifications we hold are
ISO Certified
GMP-certified manufacturing units
DCGI approved products
FSSAI
QA/QC
Schedule M
We are an innovation-driven company ready to get into the pharma market of Gujarat. You have the opportunity to associate with us and get a progressive business.
Pharma Franchise Opportunity in Gujrat
People are continuously searching for Business opportunities that start with low investment and make a maximum profit. The Pharma sector is growing at a more rapid speed and everybody is seeing great growth. Many people are fed up with daily routine jobs and want to succeed in their careers. Pharma Franchise is an opportunity that is all about the distribution of Pharma Products. This business works on Monopoly-based rights. There are many benefits provided by companies which we choose for Pharma Franchise so Biofield Pharma is one of the top-rated companies best suited for this business.
Contact Information
Name: Biofield Pharma
Address: S.C.F. No. 377, M. Market, Manimajra, India
Phone number: +91-9216300566, +91-9216300166
Email: info@biofieldpharma.com