PCD Pharma Franchise in Tamil Nadu – Tamil Nadu is in the forefront of the healthcare delivery system. Undoubtedly Tamil Nadu is serving as a hub for medical tourism in the eastern part of the globe. It is the first state to enact the Public Health Act. The people in Tamil Nadu are getting aware about the healthcare facilities and thus seeking for better medical treatment. With the increase in the demand for healthcare facilities and products we are introducing PCD Pharma Franchise in Tamil Nadu. Commencing your franchise business by investing in the reputed company like Biofiled Pharma is promising for the market players.
Biofield Pharma is an ISO-certified pharmaceutical company involved in the production of a wide range of pharma medications covering all diseases and disorders. We believe in providing the quality assured quality formulation having consistency in stability and texture. Our company is indulged in manufacturing, supplying, and trading of products in accordance with WHO and GMP guidelines. We are expanding our PCD Pharma Franchise in Tamil Nadu, Chennai, and other regions. This creates a lucrative business opportunity for pharma professionals, wholesalers, stockiest, retailers, entrepreneurs, and market representatives.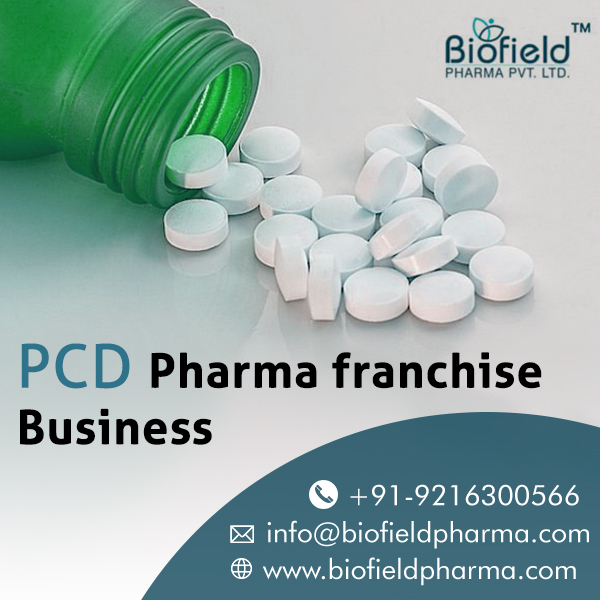 Our pharma formulations are best in terms of quality, safety, purity, durability and efficacy. Connect with us today and avail the best business deals. For more details give us a call at +91-9216300566, +91-9216300166 or you can also mail us at info@biofieldpharma.com.
Major Benefits of PCD Pharma Franchise in Tamil Nadu
If you are a newcomer and want to know about the major benefits of spending on PCD pharma franchises then go through the below-mentioned points:
Good Return on Investment is one of the major benefits that every businessman wishes for.
The PCD franchise business gives you a golden chance to become your own boss.
In the business, the work pressure is very low and this increases the work efficiency.
The advertising support is provided by the associated pharma company.
The administration cost involved in this business is very low.
You get the freedom to start a pharma business in your own desired territory.
As a franchise holder, you can expect a great career and future scope in the business.
Growing Demand for Healthcare Facilities in Tamil Nadu
Tamil Nadu is positioned second in health and well-being. The state government focuses on reducing maternal and infant mortality health, road accidents, and communicable and non-communicable diseases. As per the analysis, the maternal mortality ratio of the state was 66 per 1 lakh births compared to a national average of 130. In the country, Tamil Nadu ranks first in the country in terms of the number of children immunized and takes pride in thousands of proficient medical practitioners specializing in various fields. People from across the country visit Tamil Nadu to take the proper treatment of their health. This increases the healthcare sector of Chennai, Tamil Nadu.
Top Vacant Locations for PCD Pharma Franchise in Tamil Nadu
We are having a wide customer base in the pharma market of Tamil Nadu. Therefore we are expanding our PCD pharma franchise in all the vacant districts of Tamil Nadu. With the assistance of our logistic distributors, we are able to spread our franchise efficiently in every nook of the nation. Invest in our monopoly-based franchise business in Chennai and become your own boss. Our PCD franchise business opportunity will help you to beat the high competition and increase the sales of your pharma business.
Here is the List of top Vacant Location:
Chennai
Viluppuram
Perambalur
Pudukkottai
Kanchipuram
Nagapattinam
Tiruchirappalli
Karur
Tiruvallur
Cuddalore
Ariyalur
Vellore
Shake Hands with us for a Profitable PCD Pharma Franchise in Tamil Nadu
Biofield Pharma works on a goal i.e., to provide better quality healthcare products to valuable customers. Over time, the company has made its brand value in the good reputation in the competitive pharma market. We are integrated with the world-class manufacturing facilities that make us capable to bring a diverse range of pharma products.
Our pharma franchise business in Chennai, Tamil Nadu is working great both for business-minded individuals and patients who are in need of effective products. Our company's transparent and professional dealing is appreciated by everyone and thus today more than 300+ associates are connected with us.
Below listed are PCD franchise services offered by us:
We are providing a complete promotional kit including materials like visiting cards, diaries, brochures, written pads, calendars, reminder cards, samples, visual aids etc.
The organization ensures to provide clients the timely delivery of orders.
Best marketing assistance is provided by us that helps our franchise holders to make their self-presence in the Indian pharma market.
We continuously keep on adding a new and improved range of products to meet the unmet demands of the customers.
Contact Information
Name: Biofield Pharma
Address: S.C.F. NO. 377, Motor Market, Manimajra (Chandigarh – India)
Email: info@biofieldpharma.com
Phone Number: +91-9216300566, +91-9216300166