PCD Pharma Franchise in Puducherry – Biofield Pharma provide monopoly-based distribution for PCD franchise opportunity in Pondicherry, Mahe, Yanam, Karaikal etc. Known to the best Puducherry-based Pharma Company for PCD, our company brings a unique list of medicines. The demand for medicines is creating more space for business. We invite pharma vendors, distributors, professionals to join us for PCD Pharma Franchise in Puducherry. The skilled professionals are efficient to formulate an innovative drugs form of tablets & capsules, pediatric range syrups, dry injectables, powder supplements, dermatology soft gels, skin creams, ointments etc.
The broad range of medicines for franchise business covers antibiotics, anti-allergic, anti-infective, analgesics, etc. drug markets. These medicines are manufactured under the GMP and WHO certified compliance. We are dedicated to providing non-contaminated and safe medicines for better health results. Pharma franchise business is the alluring venture for better economic growth. We provide various marketing strategies for a better franchise business. The company put emphasis on the timely delivery of products all through the nation with the help of logistic partners. These attributes enable us to provide the PCD Pharma Franchise in Puducherry.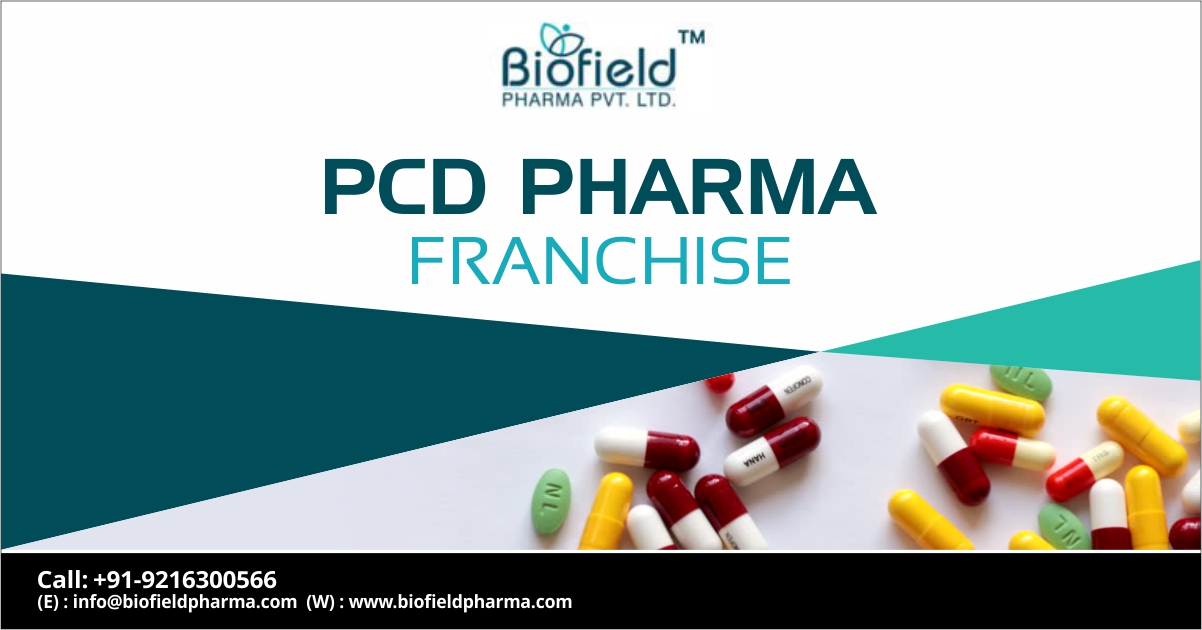 Economic business dealerships are offered all across Puducherry and its dedicated locations by Biofield Pharma. To get full information and apply for the same, contact at +91-98884-21594 or +91-9216300566.
Why People of Puducherry Should Opt Pharma PCD Franchise Opportunity?
Puducherry has grown into a place where pharma business is influencing considerably due to several factors. Everyone wants to own their own business and pharma PCD franchise is the one that brings you the right chance to set up your own flourishing venture. With low risk and a high amount of profit generation medicine franchise business in Puducherry.
The PCD Pharma business welcome host of benefits with foremost being starting your own business.
Investment needed for a startup is economic and won't burn your pockets.
The demand for medicines in Puducherry has grown providing stable future opportunities.
Clinics and hospital services have boosted in these regions creating various sorts of demands.
Local people rely on the great quality and efficiency of medicines which is provided by our company. Therefore, you get to rule a good income source.
Biofield Pharma – Best PCD Pharma Franchise Company in Puducherry
Puducherry, a popular union territory of India, is a hub of medical education and research institutes. Many people are pursuing the medical and pharmaceutical sector for economic growth. Since the advancement in science and technology is taking place throughout the globe, it is giving the opportunity to many people to flourish. Government is also taking initiative in the pharma services for the better health of general masses. When it comes to better investments of your money, the Pharma PCD Franchise is the best platform that provides the flourishing future.

Embraced with Ultra Modern Manufacturing Facilities  
Biofield Pharma is the best Company of PCD Franchise that offers an open door for a franchise business opportunity in Puducherry. We are fit for assembling cost-effective drugs with the assistance of high tech hardware and gifted staff. The organization has denoted the line of perfection for the quality assembling and franchise administrations of pharma items. We bring you quality medications that have been created under the consideration and bearing of pharmaceuticals specialists. The highlights of our creation offices are:
The productive system in the units.
The framework establishes frameworks to expert and prevalent assembling where meds of a wide range of created.
Immense unit estimate and spacious workforce cause us to keep up great generation speed and volume.
All Medicines are DCGI certified.
GMP & WHO laid guidance have been fully maintained.
Quality and Pure APIs.
No compromise to quality has been made that ensures that you get quality & Effective medicines.
The Scope of PCD Pharma Franchise for People of Puducherry 
Expansion of business has been one of the greatest ways one could get a promising career in the pharmaceuticals sector of Puducherry. The demand has been extending a warm welcome of people who are interesting in being a sole or partner entrepreneurship. There are various levels of the scope of business opportunities as a franchise owner of pharmaceuticals here like:
Start your own pharmacy/chemists business.
Go with the retail business of quality medicines and products from Biofield Pharma Company.
Extend the business as specialized distributors.
Do online to part-time business.
Monopoly business will make you earn at greater scale here with us!!
Great Quality Products Range for Puducherry Pharma PCD Franchise
The medicines provided here are made using quality sources that are directed from trusted vendors. Our main aim is to bring you quality drugs that meet global standards, patients need and highest customer satisfaction. When looking for PCD franchise, the company's products list plays an important part, Thus, we bring 300+ range of medicines where you can start, expand or double your business profits.
Antibiotic tablets & Injections
Dermatology Topical creams & Ointments
Gynecology and Infertility Medicines
Multivitamins, Calcium Supplement etc.
Anti-Allergic Range etc.
Why Choose Biofield Pharma for PCD Pharma Franchise Business in Puducherry?
Biofield Pharma is the leading pharmaceutical company in Puducherry that provides the PCD franchise opportunity throughout the nation. Our company happily invites all including pharma wholesalers, distributors, pharmacists, chemists, dealers who deal in medicines etc can find a great opportunity with us
Great Marketing Support.
Budget-Friendly Investments
Good Income Source for All.
Impressive Expansion Scope etc.
Target Locations in Puducherry for PCD Pharma Franchise Business
With the increase in the PCD pharma franchise business Biofield Pharma has expanded its franchise services in all the major districts of Puducherry. Given below are the districts of the union territory of Puducherry where we offer our franchise:
PCD Pharma Franchise in Pondicherry 
Enclave by Tamil Nadu, Pondicherry is the capital of Puducherry having a good population base and medicines demand. The PCD franchise has a good chance of withholding here where you could earn a lot and ensure proper business. Health Capital in proximity brings in good pharmaceuticals business for people of Pondicherry to rely on medicines franchise in locations like  Karaikal, Nedungadu, Neravy, Tirunallar, Kottucherry, Tirumalarajanpattinam.
Franchise PCD Pharma in Yanam
Surrounded by borders of Andhra Pradesh, Yanam district is open for monopoly based medicines franchise business at Biofield Pharma. We invite people of Agraharam, Darialatippa, Farampeta, Guerempeta, Kanakalapeta, Kurasampeta, Mettakur etc to join for a genuine business. We assure you a wider space for the business purpose.
Pharma PCD Franchise in Mahe
Pharmaceuticals PCD Opportunity in Karaikal
Requirements For Puducherry Associates to Own PCD Pharma Franchise Business
Medicines franchise has been a coveted business format in Puducherry, India spanning good income for everyone. Owning a pharma franchise business ask for determination along with some experience. Here are some of these:
Tax Identification Number
Drug License Number
Minimum experience in pharma sales 3 to 4 years
Registered GST Number.
Set your foot in the pharma sector of Puducherry by becoming a proud member of the Biofield Pharm franchise services. We bring ideal deals PAN India where you could choose to become an entrepreneur and earn a stable living.
Contact Details
Name: Biofield Pharma
Address: S.C.F. NO. 377, M. MARKET, MANIMAJRA
Contact No.: +91-98884-21594 +91-9216300566
Email: INFO@BIOFIELDPHARMA.COM