Pharma Franchise in Tripura – High Pharmaceuticals demands in northeast India, and Tripura has been overwhelming bringing greater value for pharma franchise distributors here. Biofield Pharma brings a good range of medicines covering antibiotic tablets, painkiller medicines, skin care products, ophthalmic liquid solutions, tonics to syrups, parenteral injectables etc. Monopoly business opportunities of PCD Pharma franchise in Tripura are offered across locations like Agartala, Udaipur, Melaghar, Dharmanagar, Kailashahar, Khowai, Belonia, Sonamura, West Pratapgarh etc.
Pharma Franchise in Tripura business is the most flourishing business venture in Tripura. Since it needs a genuine investment, the scope of economic growth is good. This business provides the best earning opportunity. We offer the best services in the pharmaceutical industry with the franchise business. The company is searching for hardworking, dynamic and skilled pharma professionals for Pharma Franchise in Tripura. We have an impressive range of health medicines for the better health of people. Since we are equipped with the latest machinery and skilled staff for the manufacturing and packaging unit, the medicines manufactured here are safe, effective and pure.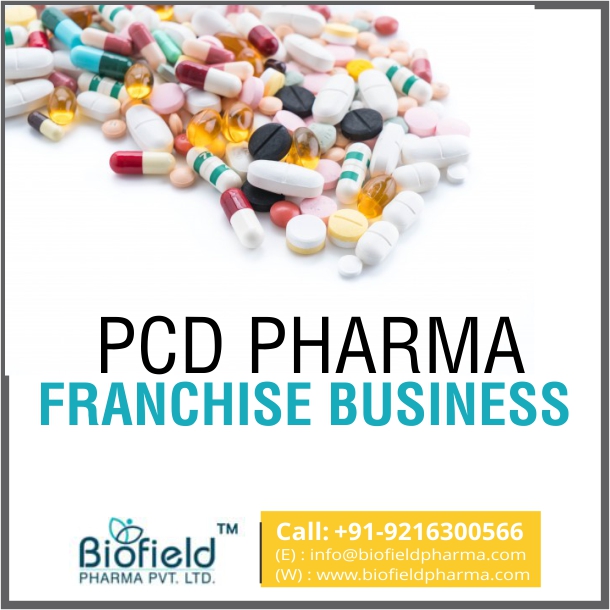 Biofield Pharma brings you quality, professionalism, and dedication in a package of PCD pharma franchise for people of Tripura. You can contact via Live Chat, Call @ +91-98884-21594 or +91-9216300566.
Best Opportunity for

Pharma Franchise in Tripura
Tripura is amongst the eminent states of northeast India. The medicines Pharma Franchise business has equally flourished a lot in recent past few years. Multiple Pharma Companies have shown their keen interest in bringing ventures here. The government has been supporting equally for better medical facilities of hospitals, clinics, health centers etc. The business opportunities are good when it comes to Pharma Franchise in Tripura :
Start as a sole entrepreneur. You can even start a venture on a partnership basis.
No need to spend a fortune to earn a good income.
Stable income as demand for medicines is good here.
Start Your Own Successful Business in Tripura of PCD Pharma Franchise
A Pharma business can be affected by many factors and Biofield Pharma, a Tripura based Pharma Company offers just the right stability to your career. We have been engaged in multiple drug markets that have been successful in driving the demands of this state in north India. Many customers have come up in the past many months which raised us in bringing the business opportunity on the limited basis of monopoly.
Reasons that Make Biofield Pharma the best Pharma Franchise in Tripura are as follows:
Multitudes of Products Range
Great Variety of Drug Markets for Individual
Value to Pharma Business
Better Authority to Business Conduct
Transparent Workings.
Quality Production of Medicines in Tripura 
Variety of drug formulations offered here at Biofield Pharma has been the biggest benefit for our associates of Tripura. The members get to own a collective products list covering different segments -drug dosage, therapeutic to drug market section – depending on your choice of business. Hundreds of pharma medicines are manufactured that cover ayurvedic syrups, soft gel capsules, pharma sachet, different tablets, injectables, protein powder, etc. We provide a Pharma Franchise in Tripura with an attractive promotional tool and strategy backups. Features that make us best from others are:
Food and Drug Administration (FDA) and the DCGI accredited products list.
APIs, raw material and extracts are brought from trusted vendors.
Only the best and efficient machines for requirements are used.
Skilled Pharma professionals are at work for making medicines.
Business Scope of PCD Pharma Franchise Opportunity For People for Tripura
Spanning a greater business cope, Biofield Pharma would like to invite people from all across the state who want to venture in the pharmaceuticals sector for business, growth, profit and better earning.
PCD Pharma Franchise in West Tripura (Agartala)
The capital city is open for business in all the famous locations for medicines PCD franchise business covering Banamalipur, Dhaleswar, Krishnanagar, Abhoynagar, Arundhutinagar etc. You will be offered great business space and monopoly marketing rights that will help you establish your own business.
PCD Pharma Franchise in Dhalai (Ambassa)
Biofield Pharma owns a good list of anti-malaria and anti-diarrhea medicines which has great demand in these locations. Our company provides various therapeutic segments like analgesics, injectables, anti-infectives etc for pharma PCD franchise across Kamalpur, Gandacherra, Chailengta etc for business with assured greater returns.
PCD Pharma Franchise in North Tripura (Kailashahar)
Pharma busines opportunities open in Dharmanagar ( Panisagar, Kadamtala), Kailashahar(Gaur Nagar, Kumarghat),  Kanchanpur (Dasda, Pecharthal, Damcherra, Jampui Hill)
Pharma PCD Franchise in South Tripura (Udaipur)
Business Opportunities of PCD franchise in Belonia, Sabroom, and Santirbazar
Gain More With Biofield Pharma for

PCD Pharma Franchise in Tripura
Pharma Franchise in Tripura associates will get the best support and ethical business opportunity while working with us. Being a leading name in the pharmaceutical sector, we ensure to provide high-quality products. The company has a good brand image in the market because of its transparent business deals. We have won the trust of health experts with our high standard quality products. Given below some benefits of choosing Biofield Pharma for Pharma Franchise.
Exclusive PCD pharma franchise-based business dealership.
Transparent, longer, and economical medicines business.
Earn good income through a better profit margin.
Our products have a higher ROI
Qualitative medicines approved by global standards i.e DCGI, FDA, GMP, WHO etc.
Our company has given professional services that benefit that humankind completely. The ranges include medicines that have good demand in your region. You can trust for better deals and better arrangements for leading a good business venture.
Contact Details
Name: Biofield Pharma
Address: S.C.F. NO. 377, M. MARKET, MANIMAJRA
Contact No.: +91-98884-21594 +91-9216300566
Email: INFO@BIOFIELDPHARMA.COM