PCD Pharma Franchise in Manipur – Manipur is the state of India where a number of business industries are establishing. And, the Pharma sector is one of them which is booming in Manipur. The government of State is encouraging to pharma sector to establishing their business in Manipur. So there is a number of pharma companies that are growing their business by offering its PCD Pharma Franchise in Manipur. So this best business opportunity to start in Manipur. Here we introduce you to Biofield Pharma that is one of the growing pharma company in India. The company deals in a wide range of pharma products like tablets, capsules, soft gels, injectables, creams, gels, oral liquids, syrups etc.  If you are living in Manipur or northeast India and looking for a good business then our company is the best.
The northeast region is a good place to start a business. The economic growth rate is appreciating. You will get a good startup here. Biofield Pharma is a known name in India for PCD pharma franchise in Manipur. We provide pharma marketing services in multiple market segments. You can take PCD franchise in diabetic, cardiology, dermatology, nutraceuticals, painkillers, pediatric, gynecology, orthopedic medicines etc. The quotation rates for each medicine are genuine. You will get good returns on simple investment in Manipur.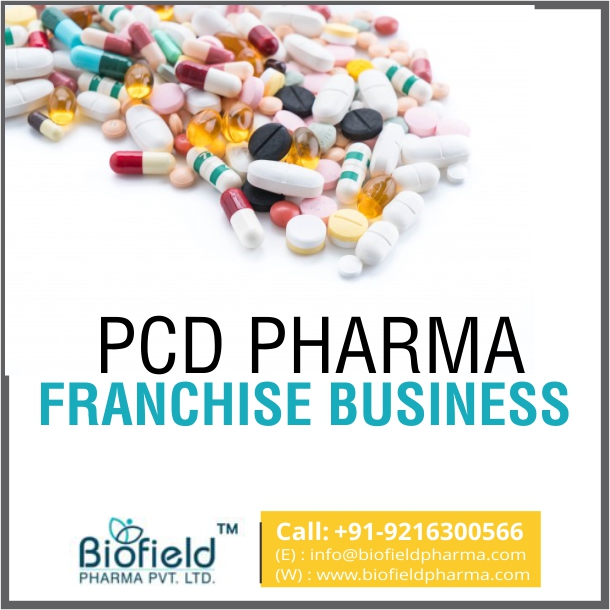 You can connect with Biofield Pharma representative by calling at +91-9216300566, +91-9216300166. In case you want to have a hassle-free conversation then direct message at info@biofieldpharma.com or have chat with us through our live chat system or text us through contact inquiry form.
Invest in Pharma Franchise Opportunity in Manipur For Good Business
Manipur is one of the northeast states. It is one of the prominent places where pharmaceuticals market is growing vigorously. The nearing end of excise free zones, people are shifting to northeast due to the extended duration there. Many MNC pharma Companies have shown their interest in starting their venture here. You can earn a good decent profit and start your own venture.
As per,  Competition Commission of India (CCI), policy note, Manipur saw high demand for independent medical facilities especially reasonable medical services.
According to a report, high margins on drug formulations was earned in Manipur which makes the PCD franchise a successful venture.
The support of the government in turning Manipur in a pharma hub has started. Various policies and schemes have been introduced to provide better propagation of the market.
The increasing number of people getting access to medical and healthcare facilities has increased. People travel from far off villages and towns to get good medical treatments. Thus, demand is good here.
The number of doctor clinics, government, and privative hospitals are increasing in the state. This has helped create awareness among the people for quality medicines and is willing to pay for it.
Biofield Pharma' Trusted Name Among Top PCD Franchise Companies in Manipur
Joining hands with the best in the market is the best way for getting the best returns! Biofield Pharma is a well-known name in the market when it comes to pharma marketing services. Manipur has good demand for our range which prompted us to provide business opportunities here. We have our own registered dealers in this state that will help you get better customer experience. Our company has 300+ pharmaceuticals drugs for pharma franchise. These include some of the widest range that we cover for PCD franchise such as
Tablets, Caplets etc.
Capsules, Softgels etc.
Syrups
Oral suspensions,
Dry Syrups
Protein Powders
Injection medicines
Ointment
Cream, etc.
You can take the PCD franchise in the specialized market also. These consist of segments like general medicine, gynecology, pediatric, nutraceuticals, dermatology, cardiology, diabetic, etc. The prices are very genuine and you will get to enjoy a wide variety of drugs at Biofield Pharma.
Monopoly PCD Pharma Franchise Business Opportunity
Biofield Pharma is offering exclusive rights. You will get here an equal distribution of area for business operation. We believe in justified pharma marketing agreement. Thus, all the legal proceedings will be taken on a mutual basis. The PCD franchise business deals are open in all the divisions of Manipur. This includes North Manipur Division: (Ukhrul), South Manipur Division (Churachandpur) and Inner Manipur Division: (Imphal). If you want to start your own venture and living in any of the given districts of Manipur then surely let us know. Here are the places we are offering franchise:
Imphal West & Imphal East
Bishnupur
Chandel
Churachandpur
Jiribam
Kakching
Kamjong
Kangpokpi
Noney
Pherzawl
Senapati
Tamenglong
Tengnoupal
Thoubal
Ukhrul
We have a good vacancy available currently! You can grab good deals now and get to start your own PCD franchise business.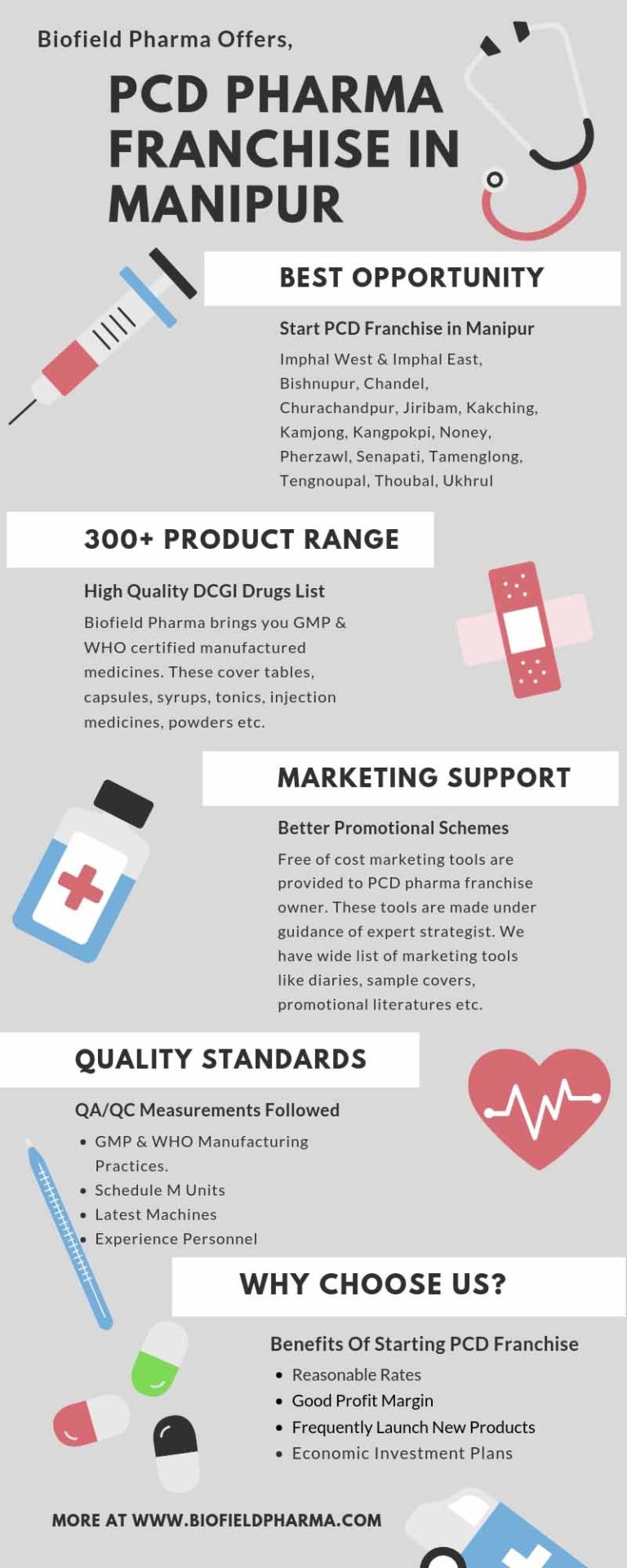 What Makes Biofield Pharma' The Best PCD Franchise Company?
Our company is a sought after name in the market. We have not only provided people with good marketing solution but also provide manufacturing services at best deals. Our medicines have been wholly produced in company-owned units that follow strict quality rules and the best environment. Skilled experts have helped achieve stable composition, improved quality, and durable drug formulations. Here are the benefits of joining our company for franchise business:
Appealing promotional tool items for better marketing solutions.
ISO and WHO:GMP certified products.
DCGI approved products.
Wider Marketing Location for better sales.
The genuine sales target for Franchise owners.
Best technology is used for the packaging of the products.
Attractive incentives and bonus for worthy franchise owners.
Reasonable rates of all medicines with a good profit margin.
Guaranteed quick delivery of all kinds of orders.
Join Our Company for Better PCD Franchise Opportunities in Manipur
We look for spirited people. Those who want to apply will require to own a drug license and GST registration number. We offer minimum investment plans which are flexible to your needs. Our company is open to apply for PCD franchise. You can contact us now to know more. We are bringing you quality drug solutions that meet your frequent demands at most cost-effective plans.
We frequently raise the list of products being offered to the associates.
The quality of medicines is never altered here. Therefore, you get the best quality indeed.
An abundance of scope offered to PCD franchise associates in the coming future.
Our company brings a wide network of distributors and wholesalers under one roof for a better business proposal.
The aggregate combination of drugs is wide and you would enjoy multiple segments.
We have been genuine when maintaining pricing and investment policies to meet your every budget requirement.
Quality of the medicines is left unaltered. Being patient-centric in our ways, we never turn to lean practices.
Contact Information
Name: Biofield Pharma
Contact Number: +91-9216300566, +91-9216300166
Email: info@biofieldpharma.com