PCD Pharma Franchise in Delhi –  Biofield Pharma is a proud ISO certified Company that brings you over 300+ range of drug solutions from different drug market at seemingly reasonable rates. We are looking for hardworking and dedicated staff of people who are looking for genuine PCD pharma franchise in Delhi city. You can take the PCD franchise in any product like tablets, capsules, syrups, drops, injectables, powders etc. They are all DCGI approved and made under international quality standards. The product range of our company is highly recommended by the doctors because it is effective and result oriented.
The demand for quality medicines is growing and it is offering good business opportunities for people all across the globe. One of the profitable sectors to invest, the pharma industry in Delhi is quite flourishing. You can get a good business here through PCD pharma franchise in Delhi. Biofield Pharma is the best Pharma Company to offer you this chance. We bring you medicines that are completely made in Hi-fi manufacturing units where GMP & WHO guidelines are being strictly followed. If you look for business opportunities in any of the given location like Connaught Place, Shahdara, Narela, Kanjhawala, Daryaganj etc then we are the best.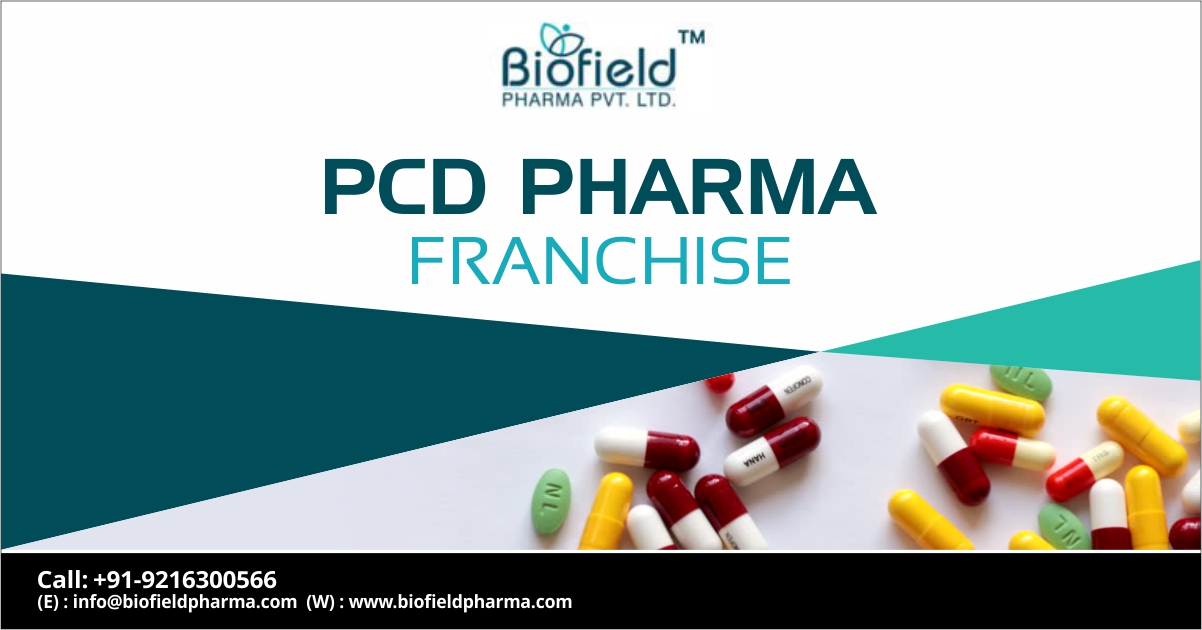 You can get detailed information related to Biofield Pharma business ventures near you by connecting us via email at info@biofieldpharma.com or simply call us at +91-9216300566 or +91-9216300166. Our company representatives will let you everything from procedure to benefits of being our PCD franchise member.
Top Pharma Franchise Company in Delhi – Biofield Pharma
Based in the beautiful city of Chandigarh, Biofield Pharma has set its roots in every state in India. We have been receiving positive reviews from customers all over the nation. Therefore, we look forward to expanding the current business to Delhi via monopoly based pharma franchise. Our company has 250+ associates and is interested to welcome more from the popular state of Delhi. The vast network of distributaries and partnerships here will support you throughout the venture. Considered the best, Biofield Pharma has been a choice of many. The key features that make us the top PCD pharma franchise company are as follows:
You will get a wide variety of DCGI approved product list.
We have ensured full quality control measurements being followed in our units.
The contamination-free environment is taken good care.
We have logistic partners in different areas across Delhi. They help us keep a track record of your orders and form a good network.
More than 300+ drugs are offered by the company to its PCD franchise members. We keep on adding new medicines and products to our list for our customer benefit.
Genuine Business Deals for Pharma Franchise Business in the Locations of Delhi
Biofield Pharma welcomes people across Delhi that look for genuine business deals. As we look for serious members, our company needs spirited and hard working individuals and groups who are interested in the pharma business. It is our duty to offer you better business scope in the market. We have been trying to bring you better business dealerships covering places like Defence Colony, Dwarka, Rajouri Garden, Shahdara, Saket, Seelampur, Preet Vihar, Narela, Kanjhawala, Daryaganj etc.
New Delhi
Shahdara
East Delhi
North Delhi: North West Delhi & North East Delhi
West Delhi
South Delhi: South East Delhi & South West Delhi
Central Delhi
You can take PCD franchise in any of the given locations above. It is our promise to bring you good business opportunities in this sector.

Biofield Pharma brings you over 300+ drug formulations for PCD franchise. They cover numerous drug markets where you can start or expand your pharma business. We always maintained high quality when making drug solutions. The entire list of medicines is approved by DCGI and marked with the highest accreditation. We have our own self-owned units that are situated in excise free locations offering high output and better facilities. You can take PCD franchise in any of the general or specialized segments of ortho medicines, gynecology, dental medicines, dermatology medicines, nutraceuticals medicine etc.
Tablets
Capsules
Drop
Injectables
Syrups etc
These cover antibiotics, analgesics, anti-allergic, anesthesia, anti-infective etc medicines that meet your frequent demands as a franchise vendor in Delhi. Our company has been a popular name providing pharma distribution opportunities across the state as a top Delhi based pharma company, You can invest in our company for better deals.
Quality Steps Taken To Ensure Better Medicines Offered for Monopoly PCD Pharma Franchise
Our company has contributed a large share of hard work in improving and creating medicines that meet your various needs and requirements. Delhi being the hub of north Indi has visitors coming across the globe for healthcare benefits. We offer 300+ drugs and look forward to bring more in the future. Thus, in process, we never lose our credibility and honesty when delivering quality products and medicines. Some of the steps we have adopted areas:
GMP-WHO units at work
Spacious and Well-controlled Temperature of manufacturing Units
Experiences and Skilled experts
Modern equipment Used.
Best PCD Franchise Business Opportunities in Delhi at Biofield Pharma
Our company welcomes all. If you become a member of our company, you will be awarded multiple benefits. Being a franchise owner in the pharmaceuticals sector is itself a good choice. You will be given genuine business deals along with a chance to grow into a business. By being an associate of our company, you get the following benefits:
The rates are reasonable
Delivery of order will be done quickly
You can track your orders
The better scope of growth is a promise here.
Contact Information
Name: Biofield Pharma
Address: S.C.F. NO. 377, Motor Market, Manimajra (Chandigarh – India)
Email: info@biofieldpharma.com
Phone Number: +91-9216300566, +91-9216300166
FAQs
Ques. Why is PCD pharma franchise a good option for business startups?
Ans. PCD pharma franchise is a good option for business startups due to its low investment requirements, established brand reputation, a wide range of products, marketing support from the parent company, and the growing demand for pharmaceutical products in the market.
Ques. How much investment is required to start PCD pharma franchise business?
Ans. The investment required to start a PCD pharma franchise depends on your medication range selection or product quantity. If you want to know more please contact our team they will assist you.
Ques. Which Kind of Products SNU Biocare offers me as a franchise Provider?
Ans. As a franchise provider, SNU Biocare may offer a wide range of pharmaceutical products across various therapeutic categories, including general health, anti-infectives, pain management, dermatology, gastroenterology, cardiovascular health, gynecology, vitamins and supplements, and more.
Ques. How does the PCD franchise work?
Ans.PCD pharma franchise is a business model where a company allows individuals or groups to market and sell its products under their brand name in a specific area, while the franchisees handle marketing, sales, and distribution.