PCD Pharma Company in Thane – Biofield Pharma is one of the leading Pharma Franchises in India, and with ISO 9001:2008 certifications, as well as WHO & GMP state-of-the-art production facilities, it is regarded as one of the top reputed pharma franchises in India. Our company offers a diverse range of products and has years of experience in providing 300+ products through PAN India. Their commitment to the job is unrivaled as we look to excel with our brands in the states, and for that, we are attempting to locate individuals by offering them opportunities in PCD Pharma Franchise in Thane.
We are looking to expand our presence even further, and with the help of highly trained and qualified experts and our R&D team, with their creative ideas and analysis, we will be able to do so. We are a leading PCD Pharma Company in Thane, and we are searching for Pharma distributors, Medical Representatives, and persons with sales and marketing expertise. We would provide employees with the potential in the brand of our corporation with a different commodity each month so that they can find themselves in a new setting and gain money.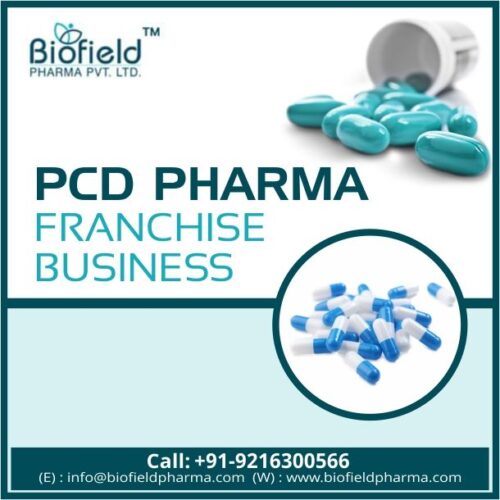 For more information, you can call us at +91-9216300566 or you can mail us at info@biofieldpharma.com.
Range of Products offered by Biofield Pharma in Thane
With a wide range of products available, we have distributed over 300+ products over PAN India and all of our products have approval from the DCGI manufacturing unit. We used quality raw material to manufacture our products which are supplied by the best vendor in the industry. The product portfolio is divided in
Capsules
Dusting Powder
Injectables
Lotions
Ointments
Protein Powder
Sachet
Shampoo
Soap
Tablet
Range of our products at Biofield Pharma:-
Tablets
| | | |
| --- | --- | --- |
| Product Name | Composition | Pack Size |
| AFTER COLD | Levocetirizine Dihydrochloride 5 mg + Paracetamol 325 mg + Phenylephrine 5 mg | 10*10 |
| AMALGARD- 20 | Rabiprazole 20 mg | 10*10 |
| AMALGARD- D | Rabiprazole 20 mg + Domperidone 10 mg | 10*10 |
| AUTOBACT- 625 | Amoxycillin 500 mg + Clavulanic Acid 125 mg | 10*6 |
 Capsules
| | | |
| --- | --- | --- |
| AMALGARD- DSR | Rabeprazole 20 mg + Domperidone 30 mg(Sustained Release) | 10*10 |
| AMALGARD- LSR | Rabeprazole 20 mg + Levosulpiride 75 mg | 10*10 |
| GIVPEP- DSR | Pantoprazole 40 mg + Domperidone 30 mg(Sustained Release) | 10*10 |
| ITRANORM 200 | Itraconazole 200 mg | 10*10 |
| MAXICARB CAP | Mecobalamin 1500 mcg + Alpha Lipoic Acid 100 mg + Folic Acid 1.5 mg + Vitamin B1 10 mg + Vitamin B6 3 mg | 10*10 |
| NAXIGAB PLUS CAP | Pregabalin 75 mg + Methylcobalamin 750 mcg + Alpha Lipoic Acid 100 mg + Pyridoxine 3 mg + Folic Acid 1.5 mg | 10*10 |
 With our R&D team, we are working on more new products so that we can invent cures to those diseases which can benefit human lives and we can provide them at reasonable prices too.
Why you should choose Biofield Pharma as your PCD Pharma Franchise?
We have now more than 300+ products here at Biofield Pharma which is in good demand. We aim to improve the health of the community by offering quality medicines at affordable prices and further look to add more medicines so that we can provide people with better healthcare. Now let us show you some of the reasons why Biofield Pharma is best for you:-
100% availability of the stock
Usage of best raw material from best vendors in the market.
Highly skilled and professional production unit for manufacturing.
We have certain certifications from top health infrastructures which makes us one among the foremost trusted within the Pharma business
Extensive range of quality products in different therapeutic segments.
Our company provides unique monopoly rights
We wish to keep transparency with our associates to make sure our trust in them
Best and effective promotional tools to our associates that work in the PCD Pharma franchise to help them.
Attractive Promotional Tools offered by Biofield Pharma in Thane
We are very well aware of the benefits of marketing and promotional skills in any business. Without these tools, our company couldn't exist within the market and therefore the most elementary function of those tools is that they enhance the sales of your company's product. Things could get easy for our associates who are looking to hitch our business in PCD Pharma Franchise in Thane.
Now let us show you some of the promotional tools we offer to our associates.
MR bags
Postal Envelope
Final Sample with Products
Company Letterhead
Company Visiting cards
Pharma Products Reminder Cards
Company's product list
Visiting card & company logo (for cars& bike)
Thanking letter for Doctors and chemists
Calendars and Diaries
Prescriptions pads for doctors and chemists
Advertising on Different types of print media from time to time.
Pens
We are searching for individuals who are dedicated and loyal to their work. There would be a high profits margin on the products offered by us and if you are looking for one of the best PCD Pharma Franchise in Thane then your search is over as we are one of the leading pharma franchise in Thane and we would offer you our company's product and keep every transparent so that we could keep that trust between us during working and gain mutual profits.
Contact Information:-
Name:- Biofield Pharma
Contact No:- +91-9216300566
E-Mail:- info@biofieldpharma.com