PCD Pharma Company in Nagpur – Biofield Pharma is one of the most trusted names in the northern region of India as is one of the leading Pharmaceutical companies in India. Today we have our 250+ associates across PAN India and we are looking to increase our reach through pharma franchises opportunities as we are providing PCD Pharma Franchise in Nagpur. We have over 300+ formulations covered under segments of Dermatology, Paediatric, Diabetic, Nutraceuticals, General Range, Critical Range, etc.
Biofield Pharma is an ISO-certified company and all of our formulations including new products have been licensed from DCGI & FSSAI. We have our own state of art manufacturing facilities which have been accreditated under WHO& GMP units. We are manufacturing the best grade of drugs since last decade and has earned the reputation of one of the top pharma company in India. Our company is associated with a team of skilled experts who have honed their craft in pharma and have been doing that for years. We have our quality control team, sales, and executive team, chemists, doctors, etc. We believe in dedication, integrity, diligence, customer satisfaction, and quality of products.
We are providing excellent working environments and the most advanced range of medicines to our associates in the PCD Pharma Franchise in Nagpur. Being one of the most reputed names in the pharma sector, we are thriving to increase our presence in India and we are looking for pharma professionals, medical representatives, and those individuals who have experience in sales and marketing.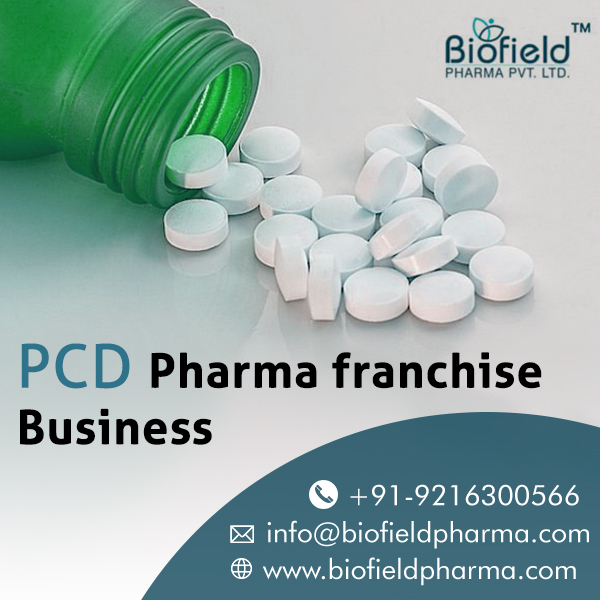 For more information, you can call us at- +91-9216300566 otherwise hitch us a mail at- info@biofieldpharma.com.
Extensive Range of High-Quality products at Biofield Pharma
Biofield Pharma is one of the best Pharma companies when it comes to the quality of medicines at affordable prices. We are working for and on the patients and meeting their needs is one of our biggest priorities. Our products are in great demand as we have over 300+ manufactured in various segments and the reason for the quality of our product is because of the quality of raw material we use.
Now let us show our product's portfolio that deals in various segments include
Neuropsychiatric
Ophthalmic
ENT
Derma
Gynecology
Dental
Analgesic
Antibiotic
Cardiology
With a highly innovative team and modern technology used at our manufacturing units, we strive to formulate at least 50-100 products every year so that we can meet the needs of patients and could deliver our products in time to customers.
Top PCD Pharma Franchise Company in Nagpur – Biofield Pharma
Biofield Pharma is one of the fastest rising pharma companies in India as, since its inception in 2015, we have already connected with 250+ associates across PAN India and have increased our product range in almost every segment. Our rise to the top is imminent as we already have been on the radar for delivering the best products at affordable rates and with our reputation in the market and chain of our network amongst medical professionals, we aim to amongst the top 10 pharma companies in the forthcoming years.
Now the linchpin of our success is our highly professional team, which has work day and night for patients and timely met the demands of the market. Our company works to extend our company's portfolio so that we can help more patients who need different kinds of medicines and our research team makes sure of that.
Now let us show some of the reason why should you choose us as your PCD Pharma Franchise in Nagpur:-
Our quality of product and unique formulations is what makes us the center of attraction in the Pharma business
Our company cover several categories with an extensive range of our products
Advance state of art manufacturing units under WHO& GMP
We provide the best marketing and promotional support to our associates.
We introduce new atoms and molecules every month to our associates.
Our whole company focuses on the growth of the company as well as our associates.
We look forward to maintaining healthy and long-term relationships with our associates.
Best Promotional Tools Provided to our associates at Biofield Pharma
For any organization to be successful proper marketing and promotional support is provided and we at Biofield Pharma are providing that to our associates free of cost. Some of the promotional tools are described below:-
Pharma Products Reminder Cards
Company Product List
Postal Envelope
Final Sample With Products
Thanking Letter For Doctors And Chemist
Advertising On Different Type Of Print Media Time By Time
Pharma Products Marketing Bag
Promotional Literature
Visual Profile For Company
Pens
Monopoly Based PCD Franchise in Nagpur
Nagpur is known to be one of the famous cities of Maharashtra and we are providing PCD Pharma franchise opportunities to individuals who are willing to work in this business. If you want to earn good profit in this business then we are offering you monopoly based PCD Franchise so that you can be the boss of your own company and region in which you will work in you don't have any competition and you can be the primary seller of our company's product. In this way, we can mutually profit.
Contact Information:-
Name: Biofield Pharma
Address: S.C.F. No. 377, M. Market, Manimajra, India
Contact No: +91-9216300566, +91-9216300166
Email: info@biofieldpharma.com