1. Iron: Iron needs increase during pregnancy. More than 17% of pregnant women are diagnosed with iron deficiency in the US which increase the need for iron rich foods. Like red meat and dark leafy vegetables, along with iron supplements if you test for low iron.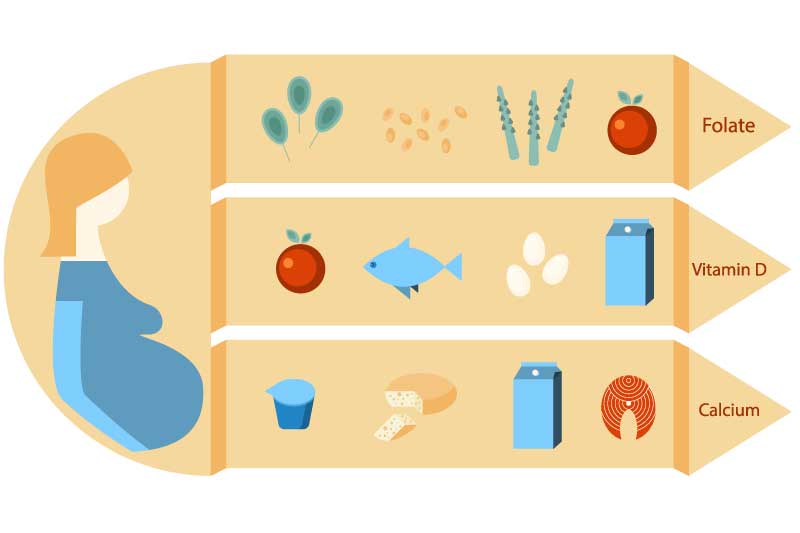 2. Vitamin D: The institute of Medicine recommends 600 IU per day of vitamin D for pregnant women. Ongoing research suggests that needs may be even higher, as well as safe, for improving maternal and infant Vitamin D status. Because food is not a good source of Vitamin D, supplements is often necessary.
3. Calcium: During pregnancy calcium absorption increase along with bone mobilization. Most women don't get the required amount of 1,000 mg of calcium through dietary sources, so they should consider a calcium supplements.
4. Folic Acid:- Low folic acid levels put your baby at risk for:
• Neural Tube Defects, like Spina Bifida
• Low Birth Weight
• Premature Birth
• Miscarriage
Research suggests that the risk of autism spectrum disorders lowers with mothers who take>600 mcg of folic acid daily in month 1 of pregnancy
When should a Pregnant woman start taking folic acid?
Women often start folic acid supplementation too late to impact neural rule closure. Neural Tube development occurs in the first 2-8 week of conception, so women should start taking folic acid supplements at least one month prior to conception.
5. Iodine: During pregnancy iodine requirements increase. With the popularity and increased use of non-iodized salt, many women are at risk for deficiency. The IOM recommends and iodine intake of 150-220 microgram per day for pregnant women.
Biofield Pharma Pvt. Ltd. has evolved into a knowledge-driven pharmaceutical company with its own manufacturing unit. We are well-known Nutritional supplements manufacturers India with numerous years of experience in the industry, we are engaged in supplying high quality of Gynaecology products.
Check at following Link:
Get the Best Franchise Opportunities
Our company, Biofield Pharma Pvt. Ltd has achieved a great success in providing Franchise Medicine Company in India. We are a pharmaceutical company and reputed manufacturer, and supplier of allopathic medicines. Established in the year 2000, and since then, due to our hard work, we can create a milestone in field of Pharmaceutical products manufacturer in Chandigarh.