Top Injectable PCD Franchise Company in India –
Biofield Pharma is the most trusted pharma franchise company in India. Our company owns accreditation from renowned organizations like ISO and WHO. The injections offered by our company are highly safe to use and are free from side effects. We are the Top Injectable PCD Franchise Company in India to offer a chance to deal in the best injectable range.
The clinically tested injections at our company are available to cure various health conditions like bacterial infection, GERD, gyne issues, nausea, vomiting, etc. Collaborate with the Top Injectable PCD Franchise Company in India and get a chance to start your own business on a monopoly basis. For more details, you can contact us at +91-9216300166 or info@biofieldpharma.com.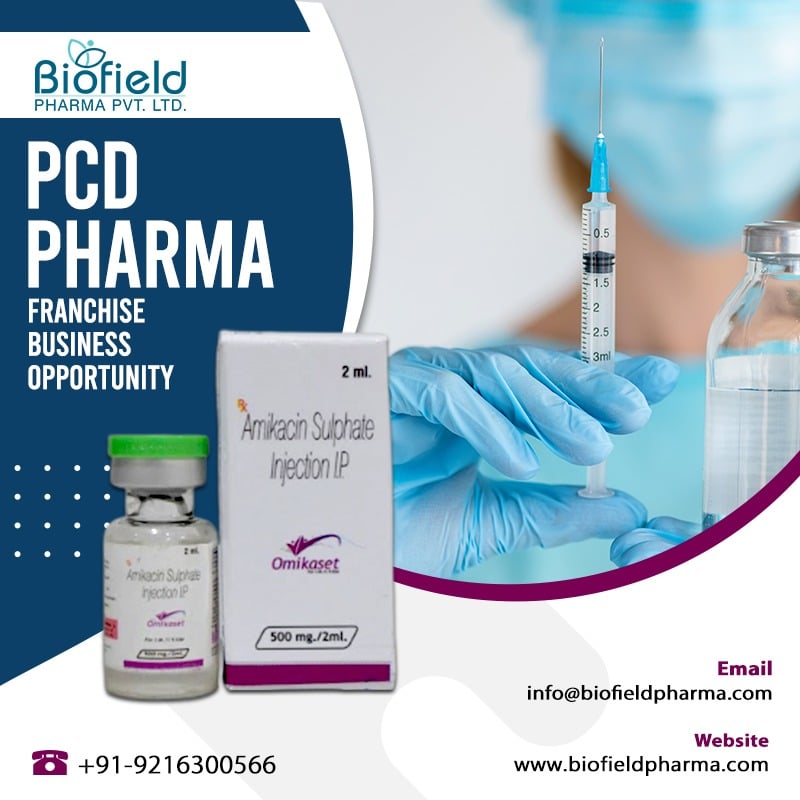 Best Injectable Range at Biofield Pharma
The injectable range at Biofield Pharma is of the best quality and is highly in demand in the market. Formulated with 100% pure and safe raw extracts, the compositions are highly safe to use and provide quick relief from the condition. We follow all the security measures.
Our experts have spent years formulating these products. With the rise in demand, we've developed several injectables for a variety of ailments GERD, gyne issues, nausea, bacterial infection, vomiting, etc.
COMPOSITIONS
TYPE
Cefoperazone 1000 mg + Sulbactam 500 mg
INJ. 1.5 GM VIAL WITH WATER
Rabeprazole 20 mg
INJ. SINGLE VIAL
Nandrolone Decanoate 50 mg
INJ. 1 ML DISPO
Natural Progestron 200 mg
INJ. VIAL DISPO
Pantoprazole 40 mg
INJ. 40 MG VIAL WITH WATER
Iron Sucrose 20 mg
INJ. 5*1 ML AMP.
Part-1 Vitamin C 150 mg/ 1.5 ml
Part-2 Mecobalamin 25 mcg + Folic Acid 0.7 mg + Niacinamide 12 mg/ ml
INJ. 1.5 + 1 ML COMBI PACK
Amikacin 500 mg
INJ. 2 ML VIAL
Ondansetron 2 mg
INJ. 2 ML AMP.
Ceftriaxone 1000 mg + Sulbactam 500 mg
INJ. 1.5 GM VIAL WITH WATER
Ceftriaxone 1000 mg + Tezobactum 125 mg
INJ. 1.125 GM VIAL WITH WATER
Quality Measures Adopted at Biofield Pharma
At Biofield Pharma, we emphasize quality. Our company adheres to global quality standards when it comes to offering high-quality pharmaceuticals to its consumers. We have established specific quality parameters in our company with the assistance of our specialists, which are entirely dedicated to providing the highest level of quality assurance to all of our employees.
The units are well-supported by reputable Pharma professionals who are dedicated to completing their tasks as efficiently as possible. They never let us down in terms of quality help when it comes to our company and the quality of our products. The following is a list of quality characteristics that our organisation must adhere to before providing the final product to our customers:
Purity
Reliability
Long Shelf Life
Effectiveness
Accurate Composition etc.
Biofield Pharma | Top PCD Pharma Franchise Company for Injectable Range
The ISO verified pharma company; Biofield Pharma is the fastest growing pharma franchise company in India. Our company is well known for the genuine and transparent business services that we offer to all our associating partners. Our injectable range is highly appreciated by the best pharmacists in the industry.
We have a team of highly skilled pharmacists, producers, and distributors who are always ready to provide the best service to our customers across India. There are several reasons why one must collaborate with our company, some of which we have mentioned below:
We offer exclusive monopoly rights that make our partners the only seller of our products in their designated market.
The production units of the company are situated in the special economic zones and being produced in the tax-free areas, our products are available at pocket-friendly rates.
The logistic partners that we are associated with are highly trusted and reliable as helps in the timely and safe delivery of the stock.
Cost-free promotional tools that we offer to our associating partners helps them inefficient marketing of the business.
We provide huge profit margins on all the products enabling our clients to earn better revenue.
Requirements to Associate with Biofield Pharma
Biofield Pharma has an extensive range of quality injectable range which we offer via our PCD Pharma Franchise Business. By collaborating with our company, you can get access to our quality product range at an affordable range. If you are a graduate, are eligible to start a business in the pharma sector, and have the documents mentioned below, then contact us for collaboration details.
Mutually signed document
Drug License Number
Goods and Services Tax Number (GST Number)
Tax Identification Number (TIN)
Private Limited Company Registration
Contact Information
Phone Number: +91-9216300566, +91-9216300166
Email: info@biofieldpharma.com