PCD Pharma Franchise in Himachal Pradesh – If you are looking for pharma PCD franchise deals in Baddi, Kangra, Shimla, Mandi, Bilaspur etc, the Top Pharma Franchise Company in India' Biofield Pharma is the best to choose. Our company has 300+ ranges of pharmaceuticals drugs like tablets, capsules, syrups, injection medicines, soft gels, ointments, powders etc. PCD pharma franchise in Himachal Pradesh is the best way to start your business in the northern region of India. With the increasing market, franchise will definitely make a profitable business. We would like to invite people who are interested in a good business deal in Himachal Pradesh.
Himachal Pradesh is a paradise for pharma people. It is the pharma hub of India with Baddi situated here. The demand for quality medicines is growing with each passing year. By opting for PCD pharma franchise in Himachal Pradesh, one can actually start their own business here. Our top target locations for PCD franchise available in Himachal Pradesh are Shimla, Baddi, Solan, Dharamshala, Manali, Kullu, Chamba, Una, Bilaspur, Kangra, Nahan etc Biofield Pharma is the best-known pharmaceuticals company to bring you multiple offers of PCD franchise here. You can start your business as general medicines supplier or any specialized therapeutic drugs distributor. We have orthopedic range, pediatric, nutraceuticals, dermatological drugs, diabetic, cardiovascular medicine etc. the prices of all the medicines are genuine and will meet the required demand for good business.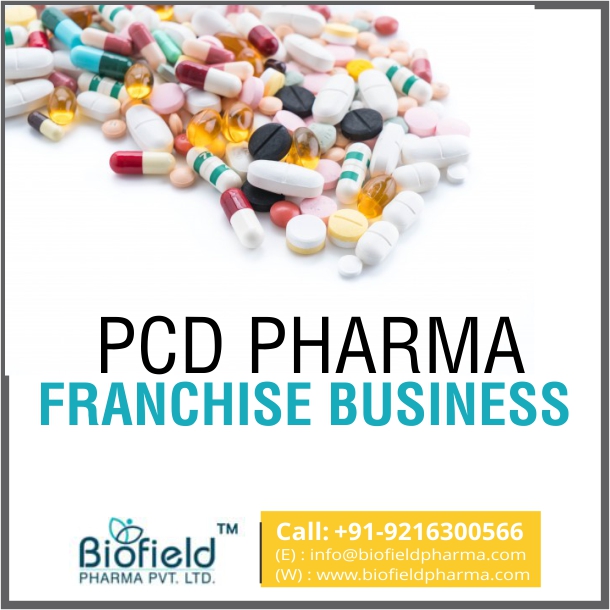 To know more about our PCD franchise business opportunities near you dial +91-9216300566, +91-9216300166 or email queries at info@biofieldpharma.com. Our company will be looking forward to a good conversation with you. For a hassle-free talk, you can even choose our live chat service or leave a text through a contact inquiry form.
Top Pharma PCD Franchise Company in Himachal Pradesh – Biofield Pharma
An ISO certified Pharmaceuticals Company, Biofield Pharma brings you a wide collection of pharmaceuticals range medicines for pharma franchise in Himachal Pradesh. Our company has embraced the best quality control techniques to bring you sophisticated drug formulation form multiple therapeutic and drug dosage formulations. We already have 300+ associates across India and now look forward to new members in this beautiful northern state, Himachal Pradesh. Take a look at the features that Biofield Pharma carries with it:
We have produced our 300+ range of medicines in GMP-WHO units. All the quality measurements have been met with the utmost care and dedication by our staff.
A-grade quality ingredients, experts and drugs are used in the perfect composition for pure, effective and safe formulation. You can rely on us for better results.
None of our products has been tested on animals.
The medicines are DCGI approved and meet your requirements for good products list.
By starting your own business, you get to have a stable income and a better career perspective. It is our assurance to offer you quality drugs and better scope in the market.
Why Start Pharmaceuticals Business in Himachal Pradesh?
Himachal Pradesh is a northern state which is home to Asia's largest pharmaceuticals hub, Baddi in Solan district. It has a turnover of over Rs 30, 000 crore. Many of the well known and reputed pharmaceuticals companies like Cipla, Mankind, Sun Pharma Torrent, Dr. Reddy's etc have set up their ventures here. The state has become one of the hotspots in India where one can start a PCD franchise business and earn well. If you are new and want to start a venture then go for PCD franchise business. Considering a PCD franchise business in HP is a good idea. Here take a look at the reasons to start PCD franchise in HP:
The demand for quality medicines and products has grown over the years. With a growing economy, derma market in HP is growing in demand.
Pharmaceuticals sector also all your day-to-day needs like creams, lotion, ointments etc. Thus, you enjoy a business on a monopoly basis.
The number of dermatologists, doctors, hospitals, and clinics has increased over the past few years. This has helped create awareness for good medicines.
Massive propagation by government and health professionals have helped raised awareness related to health ailments and their concerns. People are willing to spend on healthcare needs and quality medicines.
Pharma PCD Franchise Business Opportunities in Himachal Pradesh
Biofield Pharma has covered all the divisions of Himachal Pradesh – Kangra, Shimla, and Mandi. The place has significant growth and presence of the pharmaceuticals sector. With many companies rooting their units here and close proximity with city life and huge population, makes it a good place for investment. if you search for business then PCD franchise is the best way of accumulating more profits to your pockets. Our company is providing exclusive rights to all the districts of this place at most affordable investment plans. We will be giving marketing support throughout the deal. The potential places where PCD franchise is available are as follows:
Chamba
Una
Bilaspur
Hamirpur
Kullu
Lahaul
Spiti
Kinnaur
Sirmaur
Solan
Start Your Own Pharma Franchise Business With Best PCD Franchise Company in India' Biofield Pharma
Dedicated and spirited new members are what we searching for! If you have the conviction and will then connect with Biofield Pharma for more deals in HP. We will be giving better opportunities for a good scope in the market. You can start your own business with simple plans and grow yourself into a businessman. Here are the benefits of being an associate of our franchise business:
Low investment and low risk business.
Get marketing support through an attractive list of promotional tool items.
On-time delivery of products and medicines is our promise.
Genuine sales target through the journey.
On achieving regular sales target, get awarded with good incentives and bonus from the company.
Still on search for better deals? Bifoield brings the best near you!
Contact Information
Name: Biofield Pharma
Address: S.C.F. NO. 377, Motor Market, Manimajra (Chandigarh – India)
Email: info@biofieldpharma.com
Phone Number: +91-9216300566, +91-9216300166