PCD Pharma Franchise in Bihar – Looking for PCD franchise in Patna, Gaya, Bhagalpur, Muzaffarpur, Purnia (Purnea) etc? Want best deals of pharmaceuticals drug franchise with top Pharma Franchise Company in India? Biofield Pharma welcomes everyone! We are a reputed company owning an extensive list of medicines/ products consisting of tablets, capsules, injectables, syrups, powders, ointments, drops, soft gels etc. They all are available for PCD pharma franchise in Bihar at affordable and genuine rates. Moreover, all our products are produced with the quality standards of WHO and GMP. 
Bihar is a good place to start your own venture at most genuine investment plans. The state has a good population and you can actually have a good medicine business here. Biofield Pharma brings you PCD pharma franchise in Bihar. Our top target locations for PCD franchise available in Bihar are Patna, Gaya, Muzaffarpur, Nalanda, Rajgir, Darbhanga, Danapur, Hajipur, Chhapra, Katihar etc. The business opportunities open door to multiple segments where you can take up the PCD franchise. These consist of generic medicines, pediatric, dermatological drugs, orthopedic, nutraceuticals, diabetic etc. Our products list is DCGI approved and meets all your demands for quality, durability, and efficacy. Each of our medicine is made in GMP-WHO units that follow strict quality measurement guidelines suggested by experts.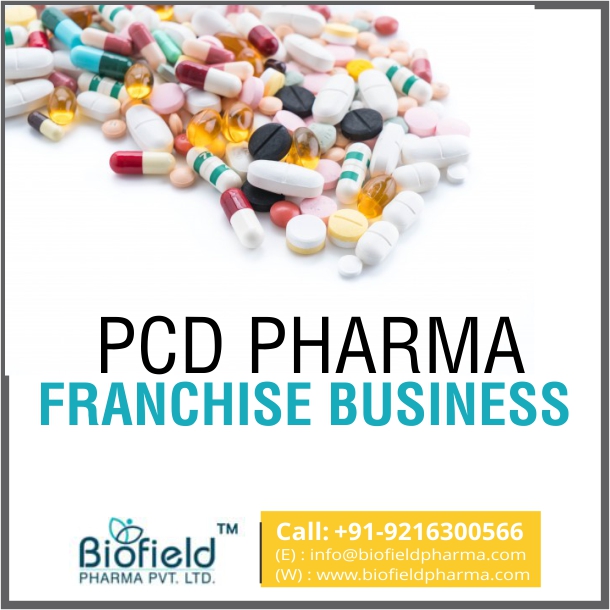 You can know more about our PCD franchise deals near you by dialing +91-9216300566, +91-9216300166 or dropping your queries at info@biofieldpharma.com. We will be offering a quite attractive range of medicines, good business opportunities, marketing support and a better scope in the market.
Biofield Pharma – Leading Pharma Franchise Company in Bihar
Our company is one of the best-known pharmaceuticals marketing service provider in India. We offer PCD franchise and pharma franchise all over India. This time we are covering north state, Bihar. We have received a good demand for our products and medicines. Our company has overall 300+ drug formulations that meet the different demands of the general public. We provide genuine marketing opportunities in the general division, specialized division, and therapeutic divisions. We are considered the best due to the following reasons:
Our company has registered dealers all over Bihar in close proximity. You will get all your orders within the prescribed time.
you can take Pharma franchise in different segments and markets at most reasonable rates. Get to choose from over 300+ drugs medicines and multiple segments for PCD franchise business.
We have chosen a reasonable pricing policy to meet the demands of all sections of society. You can be assured of the best quality each of our drugs carries with it.
The whole manufacturing has taken place in GMP-WHO units with the best of techniques and technology.
Best packaging solutions have been used and hygienic containers have been used for storing them.
Increasing Demand For Pharmaceuticals Drugs in Bihar | Best Business Opportunity
Bihar is a beautiful state in north and eastern state of India. It has the third largest population in India. One of the best parts of working as PCD franchise vendors is that you can earn well here. The market for pharmaceuticals is growing in Bihar. Many companies have shown their interest in starting their ventures here. By having a PCD franchise business, you open doors to good benefits like:
Third largest populates state has a high demand for quality medicines.
the emphasis and interest of the government in healthcare, hygiene, and medicinal facilities have given rise to good demand here.
People are getting more aware about health care rights and services. thus, they are spending well on healthcare needs and good medicines.
PCD franchise has a good return on investment making it a profitable industry.
Ultra-Modern Techniques Used at Biofield Pharma for Quality Medicines
Quality is an essence at Biofield Pharma! We have been one of the best-known companies to provide quality drug formulations. This is all credited to the team of skilled experts. The best of being a member of our company is the good efficacy, purity, and durability of medicines. This is all achieved by the successful trial of quality measurements and procedures that we follow. Take a look at a few of the steps that we take:
GMP-WHO manufacturing
Skilled, Trained and Experienced Staff in R&D.
High-quality ingredients.
World-class manufacturing infrastructure.
Effective techniques for producing medicines.
We have been sophisticated and professional in our ways of delivering high-quality content to our members. You will enjoy the vast pharmaceutical medicines range that is being strictly monitored by our expert.
Start Your Pharma Franchise Business With Biofield Pharma | Pharma Franchise Vacancy in Bihar
One of the best parts of working with a reputed company is a great deal! Biofield Pharma brings you exclusive rights to all the places in Bihar. You get to business in your own way on a monopoly basis. We have covered all the major districts and their cities under our pharma PCD franchise. If you want to open the franchise business in Bihar then Biofield Pharma is the best. We have covered cities like:
Arrah
Begusarai
Bhagalpur
Bhojpur
Biharsharif
Chhapra
Darbhanga
Gaya
Hajipur
Katihar
Munger
Muzaffarpur
Patna
Purnea
Saharsa
Currently, we have a good vacancy available for locations in Bihar. You can call us now and know more about our company Franchise deals near you.
Contact Information
Name: Biofield Pharma
Email: info@biofieldpharma.com
Phone Number: +91-9216300566, +91-9216300166