PCD Pharma Franchise for Anti-Vertigo Range – Biofield Pharma presents an exclusive range of Anti-Vertigo medicines that are available in the form of steroids, antiviral drugs, antibiotics, antihistamines or anti-emetics, rheumatology drugs, analgesics, anticonvulsants, anti-inflammatories, antimalarials, cardiovascular drugs, gastroenterology drugs, etc. The company offers PCD Pharma Franchise for Anti-Vertigo medicines that are DCGI-WHO approved. Being the leading company with ISO-GMP certification, we are committed to providing the best business opportunities of pharma franchise for these medicines.
To meet the market challenges for various medicines range, the company brings innovative and latest formulations of medicines with the help of R & D experts. We follow strict guidelines of manufacturing to bring quality among our medicine range. The company enthrals a pocket full of business opportunities through PCD Pharma Franchise for Anti-Vertigo Range all across the nation. The company offers business benefits like good profit margin, quick delivery, promotional tools, etc. to the franchise owners. Therefore joining hands with the leading franchise company for franchise business will bring prosperous growth in your business.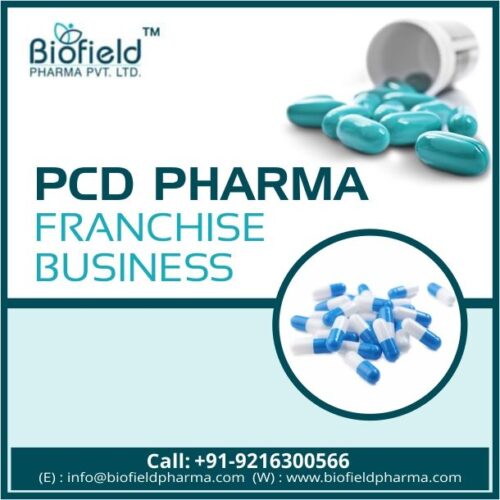 Have a hassle-free conversation with us to know more about our franchise business deals and opportunities for various medicines. Call us at +91-9216300566 or send us your query through an email us at info@biofieldpharma.com. Our team is always here to answer your queries.
Business Scope of Anti-Vertigo Medicines PCD Pharma Franchise
These medicines are used to provide relief from the dizziness that is caused in the brain because of various issues like ear problem, migraine, or the side effect of any medication. Therefore, adding this medicine range in the product list for the franchise business could be a better step. There is less competition in Anti-Vertigo drug market. Therefore, investment in this sector would be beneficial for you. At Biofield Pharma, we strive to bring the best business opportunities for these medicines.
You can get attractive promotional tools that are available free of cost
The area of distribution is wide if you take PCD Pharma franchise for Anti-Vertigo Medicines.
There is fewer sales target for this medicine range.
Biofield Pharma – Emerging Pharma Company for Anti-Vertigo Medicines
An ISO-GMP certified company, Biofield Pharma is the renowned name in the pharma industry that is stepping towards the new height of success by bringing quality drug range in the market that is innovative. The company is giving its valuable services for a long time in the industry to meet the market demand for various medicine range. Also, the company is contributing to the national economy by offering business opportunities all across the nation. Factors making us the best in the market are listed below:
We bring WHO and GMP certified products that are safe to use and effective on the ailment/disease.
All the products that we provide are available with the approval of DCGI, FSSAI, and FDA standard units.
We have well-equipped world-class infrastructure that is embraced with advanced machines and professional staff.
The company delivers only Quality assured products that are reasonable in price even on high demand.
Anti-Vertigo PCD Franchise Business Benefits at Biofield Pharma
The company has prominence in marketing various therapeutic medicines that are quality assured. With an aim to establish a strong base across the nation, we are offering distribution business opportunities for Anti-Vertigo medicines. The company ascertains its core values in bringing the health reforms among general masses. Therefore, giving multiple growth opportunities to the pharmacists, distributors, and wholesalers. The benefits of owning a PCD Pharma Franchise at Biofield are:
Getting Quality Assured medicine range.
Vibrant range at reasonable pricing
The benefit of working in a wide area.
Marketing support with promotional tools
Quick delivery assistance with over the counter services.
The handsome profit margin on sales.
We assure you to have the best business experience in PCD Pharma franchise for Anti-Vertigo medicine range. To know more, contact us at the given details.
Contact Information
Address: S.C.F. NO. 377, M. MARKET, MANIMAJRA
Email: INFO@BIOFIELDPHARMA.COM
Contact Number: +91-9216300566