PCD Pharma Company in Vadodara – Biofield Pharma is one of the most reputed names in the Pharmaceutical industry as we provide services that are unmatched and we are striving to grow our presence across PAN India. We are an ISO-certified Pharma company and we also deal in the PCD Pharma Franchise business across the whole country. Our company is associated with a group of skilled experts who are committed to providing the highest quality allopathic medicines with timely delivery and also we are one of the top PCD Pharma Company in Vadodara.
The best thing about Biofield Pharma is it is working on Monopoly basis rights which gives complete independence to PCD Franchises to make advancement by searching for new areas. We are an ISO, GMP Certified company that brings QA/QC checked products with the best price range. We provide a wide range of around 300 products which include antibiotics and anti-infectives, multivitamins and minerals, anti-allergic, antioxidants, painkillers, hormonal management, and a lot more. All our products are available in the form of capsules, tablets, liquid, gel capsules, dry powder, and ointments which makes us the best PCD Pharma Company in Vadodara.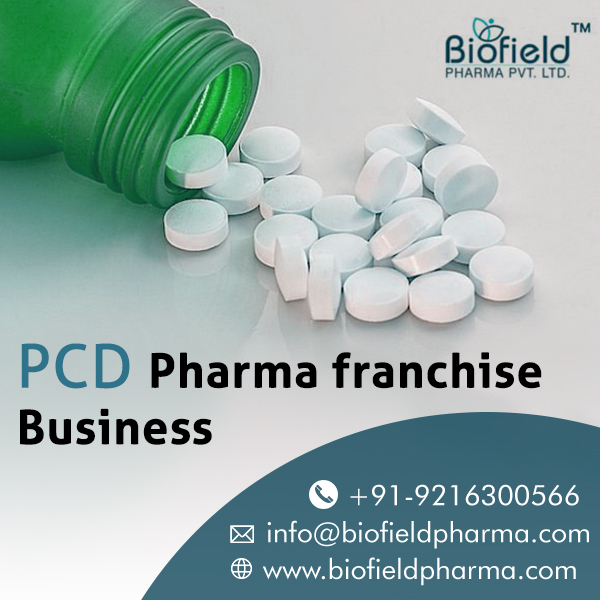 We are looking for pharma distributors, medical representatives. sales and marketing executives to carry our products across PAN India and make a name for themselves in pharma business venture. For more information call us at +91-9216300566, +91-9216300166, or you can also mail us at info@biofieldpharma.com.
Top Pharma Franchise Company in Vadodara – Biofield Pharma
Being established in 2007, we are an experienced firm who have experienced veterans in this medical profession and knows the ingredients and composition to make high quality & efficacious products. We are one of the top manufacturers of allopathic medicines in India as we have distributed our products across 40,000+ medical professionals and our medicines have been termed as safe and one of the most effective brands in the pharma market. We do not rush for manufacturing as we do manufacturing on-demand of the market and we know how to do marketing. We keep the price of our products pocket-friendly as we want to provide every people with the best and effective medicines at their end.
We use the best raw material in the composition and what makes our company different from other pharma companies is the dedication that we bring to reaching our aim whether long term or short term. Our R&D team uses the best QA/QC techniques to keep products within the quality standard as we thrive to keep upgrading our products every year. We also aim to increase our product range by introducing new atoms and molecules which we always deliver to our clients so that they can make full use of it and help them boost their confidence in this pharma franchise business.
Extensive Range of Product we offer at Biofield Pharma in Vadodara
We are one of the top PCD companies when it comes to genuine and affordable products in today's market because of our effective and chemical-free composition in our products. All of our drug ranges are DCGI approved as we have our state of art manufacturing units accredited under WHO-GMP. We have the best infrastructural facilities with an air-cooled environment due to which our products remain safe and reliable. Our R&D team with modern machine equipment and innovative thinking produces top-notch products that stand on the apex of the market. Now, let us show you our company product portfolio in PCD Franchise in Vadodara.
Tablets
Capsules
Softgels
Protein Powder
Sachets
Topical & Lotion
Syrups Sections

Injectables etc.
Attractive Promotional Tools we offer to our associates at Vadodara
We know how important the sales and marketing department is for any company to succeed in the PCD Franchise business. So to provide that, we are giving our associates with best promotional tools equipped so that it helps that to gain more confidence and also profits mutually.
Below enlisted are some of the promotions we offer to our associates.
Company Letterhead
Chemist Order Book
Product lists
Final sample with products
Company visiting cards
Free sample kits
Marketing bag
Reminder cards
Visual aids

Postal envelope
Perks of Joining Biofield Pharma for Pharma Franchise Business
With an experience of over 20 years, we have seen all the advancements the medicinal department has gone into in these years and also we are experienced campaigners as we are providing people with an amazing range of allopathic medicine to help them live their life freely. With a recommendation from best doctors and best hospitals to patients we are a trusted organization and to invest in our company would be a wise choice for a newbie or those who want to have a future in the franchise business. Now let us have a glance at the perks we offer to our associates in Vadodara.
DCGI & FSSAI approved product range
ISO 9001:2008 accredited company
Best Packaging for our products
Wide variety of products in different therapeutic segments
100% availability of products
On-time delivery of our formulations
Unique Monopoly PCD Franchise opportunities
Contact Information:-
Name:- Biofield Pharma
Contact No:- +91-9216300566, +91-9216300166
E-Mail:- info@biofieldpharma.com