PCD Pharma Company in Bhopal – Biofield Pharma is one of the most trusted and reputed Pharmaceutical companies in India. We excel in manufacturing and exporting world-class quality medicines to the market. We have a wide range of products as we deliver over 300+ products across PAN India. Our company deals in General Range, Paediatric Range, Ortho Range, and Gynae Range. We manufacture our products in form of tablets, capsules, liquids, softgels capsules, ointments, and dry powder. We are one of the top PCD Pharma Company in Bhopal.
Biofield Pharma Pvt. Ltd. is an ISO-certified company with the best state of art manufacturing facilities licensed under WHO & GMP units. We thrive on providing the best quality allopathic medicines with on-time delivery. Our company consists of highly qualified skilled professionals who make sure that you will always get safe products at affordable prices. Our team consists of chemical engineers, doctors, medical professionals, the R&D team, the Quality control team, and sales and marketing executives. We have earned a high reputation amongst the best medical professionals and customers in a short period which makes us one of the Top Pharmaceutical Company in India.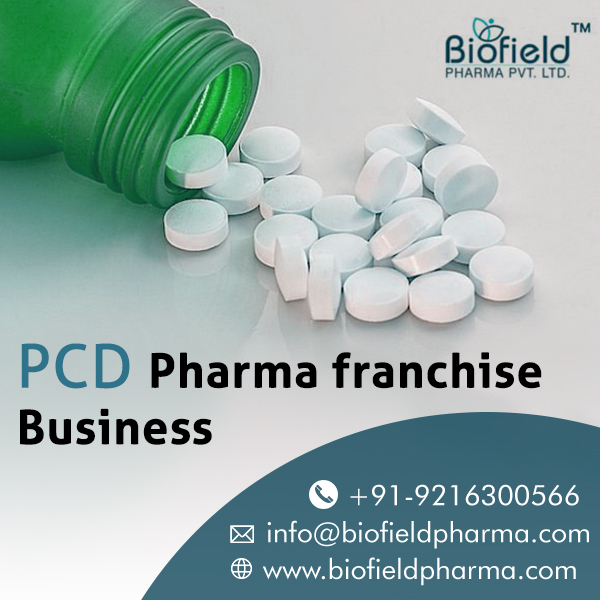 As our reputation of best PCD Franchise company in Bhopal, we are providing people the franchise opportunities with unique monopoly rights and best marketing and promotional tools so that they can excel in this franchise business and we both get mutually profited. For more information you can call us at:- +91-9216300566 or you can mail us at info@biofieldpharma.com.
Top PCD Pharma Franchise Company in Bhopal – Biofield Pharma
Since our establishment in 2000, we are one of the experienced names in the Pharma industry as we are providing high-quality allopathy medicines for the past two decades and we have established ourselves as one of the most reputed Pharma company which provides Pharma Franchise opportunities for its associates. We already have our franchise in almost every state of the country and with the quality range of our products we like to expand it furthermore. We are providing PCD Pharma franchise opportunities in places so that people can be benefitted from our high-quality medicine range at affordable pricing.
Now our company runs on some principles which we set for ourselves- Excellence, Integrity, Affordability, and Quality. Our products have been inspected strictly through various stages from production to its dispatching. We have the best quality control team for this process. We also take care of our associates by providing them certain benefits which are listed below.
High-Quality Pharma products at reasonable pricing.
High-profit margin on our products for our partners.
Quick delivery of our products. Estimated delivery takes place within 2-4 working days.
Unique Monopoly Rights given to our partners.
Extra gifts, rewards given to our partners on meeting annual sales target.
Less investment, More profit with less risk in PCD Franchise business.
Best Promotional support to our associates.
Full transparency between our company and associates.
Exceptional Range of Pharma Products in Biofield Pharma
Quality is what we thrive on and we have been known to deliver world-class products at affordable prices. When talking about reputation, our medicines have been prescribed by medical professionals and doctors to the patients and we have an excellent team of pharmacists who made sure that all products manufactured can match the quality standards according to WHO& GMP.
We offer our products in form of syrups, capsules, tablets, oils, ointments, powders, sachets, etc. Now let us look at our product portfolio which incorporates various segments
Ophthalmic
Derma
Gynecology
Analgesic
ENT
Antibiotic
Dental
Cardiology
Neuropsychiatric.
With continuous efforts from our R&D team and with the help of modern machinery, we are positive about extending our product portfolio and we want to provide the best possible quality medicines for people across PAN India.
Promotional Tools Support Provided by Biofield Pharma in Bhopal
In a place like Bhopal where demand for PCD Franchise is always high, it presents opportunities for people living in the city to invest in this business and as one of the top-named companies in Bhopal, we are offering the best support to our associates in the form of promotional tools. It will help to understand our products and help our associates to make a name for themselves in this business.
Now let us have a look at the best promotional support provided by Biofield Pharma in Bhopal:-
Chemist Order Book
Visual Profile For Company
Visiting Cards
Final Sample With Products
Pens
Visual-Aid With Detail
Marketing Bag
Pharma Products Knowledge With Full Detail
Thanking Letter For Doctors And Chemist
If you want to invest in the PCD Franchise business and couldn't make up your mind about where to go, then don't worry as Biofield Pharma is a trusted and reputed Pharma company in Bhopal and we guarantee you a fruitful career in this business.
Contact Information:-
Name: Biofield Pharma
Address: S.C.F. No. 377, M. Market, Manimajra, India
Contact No: +91-9216300566, +91-9216300166
Email: info@biofieldpharma.com